---
---
---
Set Boosters are an exciting way to add to your collection. You're much more likely to open multiple rares in Set Boosters than in Draft Boosters. Set Boosters always contain a Booster Fun card, a traditional foil card, and an art card. The commons and uncommons in Set Boosters tell little stories, and there's always the chance of opening a card from The List.
Adventures in the Forgotten Realms Set Boosters contain:
At least 1 rare or mythic rare card (approximately 27% of Set Boosters contain 2 rares or mythic rares, 3% contain 3, and it's even possible to open 4 though that's less than 1% of the time.)
1 Traditional foil card of any rarity
1 Rulebook, module, or borderless common or uncommon—check out the

 

Collecting

 

Adventures in the Forgotten Realms

 

article

 

for details!
1 Art card or foil-stamped art card
7–10 Commons and uncommons (at most 7 may be uncommon)
1 Basic land or foil basic land
1 Ad/token/dungeon card or 1 card from

 

The List
Set Boosters are available individually and in displays of 30 packs. If you purchase a display, you may be eligible for this special foil Buy-a-Box promo—ask your local store!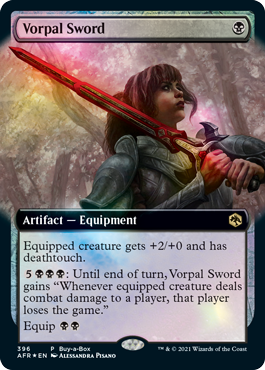 Vorpal Sword is available in Set, Draft, and Collector Boosters, but this art by Alessandra Pisano is exclusive to this promo.
DRAFT BOOSTERS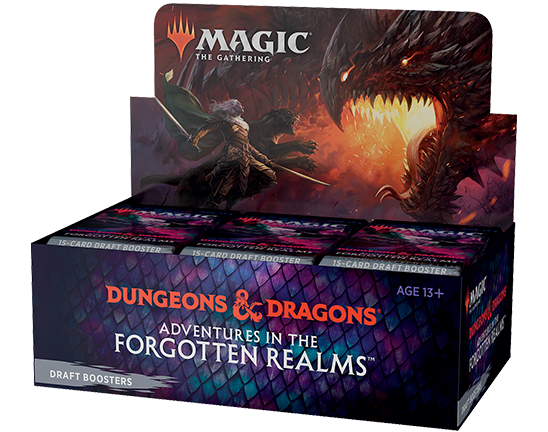 Draft Boosters are perfect if you're looking for the classic Draft or Sealed experience. You can open all the same Adventures in the Forgotten Realms cards in Draft Boosters that you can in Set Boosters—including the same Booster Fun cards—but these packs are optimized for Draft. They contain:
1 Rare or mythic rare card
3 Uncommon cards
10 Common cards (In 33% of

 

Adventures in the Forgotten Realms

 

packs, a traditional foil of any rarity replaces a common)
1 Basic land
1 Ad/token/dungeon card
You can purchase Draft Boosters individually and in displays of 36 packs. Just like Set Boosters, your display purchase may be eligible for the Vorpal Sword Buy-a-Box promo—just ask your store!